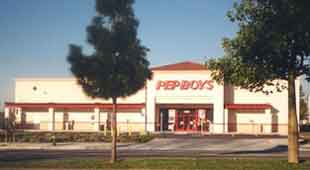 The building was constructed to include nine service bays with hydraulic lifts and mechanical overhead doors, grease interceptors and specialized automotive service equipment per the owners specifications. This included specialized "black" concrete finish floors be installed in all the service bays. The building also included a fully sprinkled retail showroom, service and retail manager's offices and a customer waiting room. The exterior of the building was finished with decorative tile inset into the stucco, cornice moldings and a red tile roof.

This masonry block building was constructed on a 2-acre site adjacent to Central Avenue in Chino. The City of Chino required the point of connection for the underground utilities cross Central Ave. In addition the City required the installation of "stamped colored" concrete at all driveway approaches, expansion of the traffic lanes on Central Ave, added left turn lanes and a new traffic signal.

This project was recognized by the City of Chino for quality workmanship.

Pep Boys
Chino, CA
Gagnier Construction set a record for the fastest built Pep Boys store on this project. The project was also recognized by the City of Chino for quality workmanship.