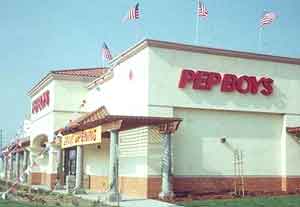 The original site was the location of an abandoned auto dealership. The scope of work included demolition and removal of 3 existing buildings as well as removal of underground storage tanks and contaminated soil.

The building was constructed to include a retail store, six service bays with hydraulic lifts, mechanical overhead doors and specialized "black concrete" floors. Grease interceptors and other special automotive service equipment was installed per the owners specifications. The building also included a retail showroom, Service and Retail Managers offices and a customer waiting room. The city of Monrovia required exterior decorative details to include stucco covered entrance columns and cornice cap crown molding. Site landscape walls included decorative concrete caps to match.

Pep Boys
Monrovia, CA
This masonry block building was constructed on a 2-acre site adjacent to Huntington Drive, in the City of Monrovia.