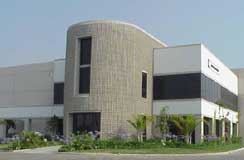 This 8-acre project is located next to the Empire Lakes Golf Course in Rancho Cucamonga, California. Gagnier was the prime contractor and head of the design team for the 114,000SF concrete tilt-up structure sited to overlook the 17th hole of the golf course.

The fluted masonry block used on the entrance tower represents the corrugated cardboard manufactured at this facility.

The project includes shipping and receiving offices, truck-loading docks, drive through truck loading and unloading, automobile and truck parking, fire access lanes and is adjacent to the Northern Pacific railway.

To accommodate future office expansion, a structural steel mezzanine deck complete with sound proofing, lightweight concrete floors and circular skylights was installed. Specialized product-baling equipment; ink clarifiers and interceptors were installed per the owners' specifications.

The interior office space includes a stone floor entrance lobby, a full size kitchen & lunchroom and outdoor employee patio. The interior first floor offices were designed using "storefront" type glass walls that visually expanded the offices and also increased the natural daylight.

California Box Mfg.
Rancho Cucamonga, CA
California Box produces custom corrugated boxes exclusively for jobbers, distributors, brokers and box plants.